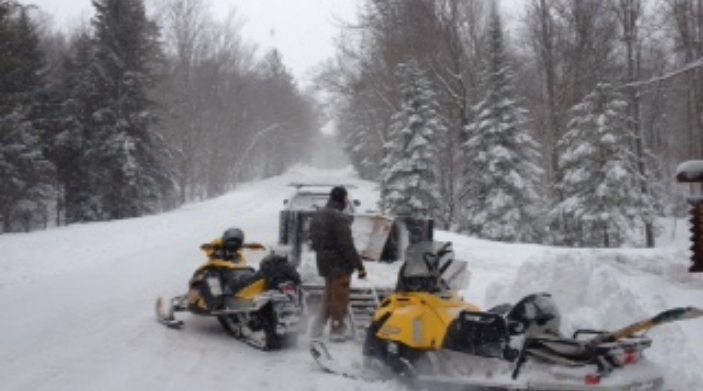 Did you know winter may prove the best time for you to tour land with a Christmas & Associates Land Specialist. Some people assume that winter isn't a great time to buy land, particularly in upstate New York, which is known for significant snowfalls. We find this to be just the opposite because our customers have learned the following seven reasons why winter is the best time to look at land:
Less crowded. While some outdoorspeople are willing to travel during wintertime, others prefer a warm blanket to time spent outdoors Several holidays fall during winter months, offering time to travel. Plan your visit over the Christmas holiday, President's Weekend or your kids' Winter Break from school. Fewer winter crowds mean more land and camp inventory to choose from. This is especially true in months like February and March, when we are fully stocked with properties. As the weather warms, we book more showings, and you will have less options to choose from.
Less heat, no bugs. Our Land Specialists show land in all weather and if the land you want to see is located on a seasonal road, we can take you there by snowmobile, UTV or on snowshoes (a fun adventure for families). Many people prefer a few snowflakes to summer's heat and humidity or spring's black flies.
Better views. When trees are bare, you can better see painted and flagged boundaries, so you know exactly how much land you are buying and where the lot lines are placed. In addition, you'll have the best views of any special attributes the property offers, such as vistas, streams, waterfalls, rock features and topography.
Close faster. Winter is a slower time for residential and commercial real estate sales, so you will most likely benefit from closing on your property more quickly.
Road access. If you need land on a town road with utilities, looking during winter can reassure you that you will indeed have winter access to the property. For properties located on seasonal unplowed roads, you can experience first-hand the value of lands with direct access to the snowmobile trail system. We can take you on seasonal roads by snowmobile or snowshoes, helping you decide whether you want to on the trail or on a road
Build sooner. If you want to work with our Camp Crew to build a camp, visiting during winter can secure a better spot on our 2021 build list. If you want to enjoy camp by summertime or fall, securing your property in wintertime is a must.
Winter wonderland. Many of our customers enjoy winter sports, including snowmobiling, Nordic and alpine skiing and ice fishing. If you tour land during winter, you can experience the beauty of winter in the Tug Hill and Southern Adirondacks. Anyone who loves snowmobiling will enjoy the popular trails and local snowmobile haunts in Oswego and Lewis Counties. Ice fishermen will want to check out the activity around Oneida Lake and Salmon River Reservoir and other lakes in our region. Ask your Land Specialist about local winter festivals or the best spot near your land to warm up and enjoy a cheeseburger, a cold beer or a hot cup of coffee.
These are just a few of the reasons why winter is a great time to tour land. Keep in mind that all our properties are guaranteed buildable so there is no concern regarding snow cover plus the trees and vegetation help to illustrate the quality of the soils. Our land experts can explain all the great attributes of each parcel because they have walked every one of them already.