A few words about Christmas & Associates from our customers...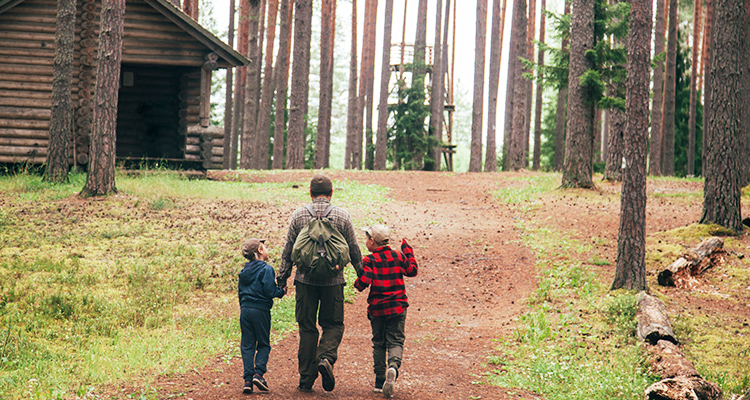 ---
To Christmas & Associates - 
We are very pleased with our Purchase from Christmas & Associates. Our initial phone call was with Chad and he was always able to answer our questions or got an answer quickly. Nikole was able to get us an accurate estimate of our closing costs. And you walked us through our closing and again answered all our questions. I would have to say overall it was a very good experience and would definitely recommend your services to others.
Thank you, Joseph & Rose Alo
---
---
To Christmas & Associates - 
Our agent, John Hill, was very knowledgeable. He listened to our wish list and showed us the perfect piece of land. We couldn't be happier with him or Christmas & Associates!
~ JoAnne Maguire VanBrocklin, Williamstown, NY
---
---
Dear Christmas & Associates,
My wife and I were looking for a property that was in the Adirondacks and convenient to us and our family. This was our first experience buying land and we had many questions. Not only did we receive answers to those questions, but we found that Mike Quinn also followed through, and delivered everything that he said he would. He also knew that he needed to find out about what our needs and interests are when we think about a family camp. He took the time to align our interests with what he found out about us in conversation.
Mike managed to find an ideal spot for us. He answered each question honestly and in a way that convinced us that he has experience and knowledge that many others do not have. He took the time to tour our land with us, twice, in the middle of winter with snow and sleet coming down. He was able to point out what he was talking about with us as we toured the property.
Even after the closing, we felt like Christmas & Associates will always be there to help us if we need them. We would not hesitate to recommend your company to anyone.
Best Regards, Peter G.
---
---
Hi John,
I want to thank you for the recommendations you provided from Brian Gardner, to Dave Holst and Tom Hill. This experience of purchasing land, getting a cabin ready for my son and setting up a shed for my husband and I has been a great experience. Not to mention the wonderful service you and your office staff provided. Thank you from the bottom of our hearts.
Please feel free to share this with your colleagues and employer ad you were and continue to be so helpful.
Gratefully yours, Cathy Concepcion
---
---
Dear Christmas & Associates,
We cannot begin to tell you how very pleased we have been from the beginning.
Your land guide, Mike, responded to our inquiry very quickly and even though that deal was not to be, within a few days we again heard from Mike with other opportunities. This frankly surprised us as we thought everything had gone to the wind. We decided on 2 properties to look at but after seeing the first we knew we didn't have to see the other as we found exactly what we were looking for. Mike knows how to find what the consumer is looking for just by conversing with them.
We have not yet met Dan but are so excited about the new camp and are looking forward to watching as our camp is built. Christmas and Associates has put incredible packages out there and we are very happy to have been able to find just the one we wanted.
Thank all of the people who have helped along the way.
Brian and Suzanne Vohnoutka
---
---
Dear John,
Thank you so much for taking the time to show us some properties on Monday. The properties were great, and the guide was even better! Unfortunately my wife tells me she is uncomfortable with the time to travel that far out from where we are today. While the Albion location was much closer that particular property did not talk to us like the 5 acres did. At this point I think we will continue looking.
As an aside, I want to tell you one of the main reasons I wanted to buy some property from your company is your attention to your customers, and the mentality that once you sell the land your relationship with us has just begun. Your willingness to help guide us thru the process, hook us up with local contractors, etc is a breath of fresh air! I can certainly tell you that the folks down here who sell land and cabins could learn allot from your company!
I will continue look and if you could look for some similar properties a bit closet to home we will continue to consider them. You guys have a class act and I would highly recommend you to anyone looking for a place to hide away!
Thanks again! You are a great guide and Christmas & Associates is lucky to have you on their team!
Anthony F. Mazzo
---
---
Good Evening John,
I just wanted to send you a quick e-mail to let you know how satisfied we are with our cabin build. It looks great and the location is awesome......much better than what we pictured. If my wife loves it, you know it's good!!!!! Can't wait to get up there in the spring and summer to work on it. Mark is great to deal with and his workmanship is second to none. Most important is he always kept us informed along the way with a text update, some pictures or a call. I thought it would be tough having something built while being 200 hundred miles away but it worked out just fine. I would highly recommend you guys to anyone. Thanks for making it easy.
Michael Schultz
---
---
To Christmas & Associates -
Dan was awesome! He spent two days with us showing us different properties and the areas surrounding them. His knowledge of the area is priceless! After an hour with him, I thought I had known him as a friend for 20 years with ZERO PRESSURE. Thank you for all that you did for us to make a lifelong dream some true!
~ The Delle Chiaie's
---
---
Dear Christmas & Associates,
Everything went great! Communication was great and it was fast and non-confusing! Contract was quick as well. Cheap for amount of land being offered! Process was easy even with the pandemic that is going on right now. I would easily recommend Christmas & Associates again. Chad was very helpful and answered all my questions. Chris and Nikki were also very helpful and respectful!
Corey Cooper
---
---
Dear Christmas & Associates,
Christmas & Associates were very patient with us. We have been looking for the right land for a few years. The whole process was convenient and enjoyable. Thank you, Chad and everyone else who assisted us during this journey.
jestob8, Osceola, NY
---
---
Dear Christmas & Associates,
My family and I would like to express our sincere appreciation on the way your company treated us in the purchase of our wilderness properties and Hemlock hunting lodge. We found dealing with Mr. Dan Christmas, Marc Christmas and your other people to be a humbling experience. We were treated with respect, courtesy and your staff was very knowledgeable and professional in taking us through the process. They found us the perfect hunting and family compound and property with stream that we were after.
All our questions were addressed in a timely manner and the contract to closing process was pain-free. It is a pleasure dealing with your company and I would not have a problem in recommending it to anyone!!
In today's world, it is truly surprising to find a company of your caliber.
Your prices are fair and competitive and to me and my family your company is honorable!!!! We shook hands, and after that, no terms of our agreement changed, which is why I purchased an additional 3 properties from you. Please enjoy the attached photos of my family and I at our lodge.
Very truly yours, Brian Lynch and Family
---
---
Dear Christmas & Associates,
Kathy and I have been very impressed to this point. (We are bursting at the seams waiting for the call from the builder for the next phase!) with every step we've taken so far.
I first saw ads in several of my hunting magazines and went on the website to look. I e-mailed the link and Chad called me within an hour or so. Within two days we were walking different parcels with him. (Note to his boss: he kept our appointment even after being in a car accident on the way to meet us - Good Man!)
We picked out # 8 in the Lyonsdale tract, mapped out a driveway, chose a cabin type and location, orientation, signed papers - all in a matter of a couple hours. It didn't take long before we were back in touch with Chad and added parcel #9 to the mix.
We wanted to close on Dec. 26th and early in the morning so we could go to our new property and you guys made it happen without a hitch. Chad can't always pick up the phone when I call but he calls back very quickly and he always gets us an answer. We also liked how you have every parcel surveyed and the boundaries are so well marked. It makes it so easy to see exactly what you are getting.
I will highly recommend Christmas and Associates to other people.
Thank you very much, Greg Lessord
---
---
To everyone at Christmas & Associates,
We wish you the best at the holidays and all year. We have enjoyed our land tremendously all year. We are building a 20 x 24 camp, 1/8 mile into the woods. We hunted the area during deer season and saw a lot - but didn't get one.
Thank you for the excellent finish job on our road and the late-season touch-up. It was worth waiting to have it so good!
Sincerely, Bronwyn Sehn Larry Burt
---
---
Dear Dan,
I wanted to let you know how much I enjoy and appreciate my camp situated on the land I purchased from you several years ago. As you know, my work required me to relocate shortly after acquiring the property, so it is really nice to have a place to stay when I get back to hunt in NY, especially now that I live way down here in Alabama.
Now that I am retired, I will be able to spend a lot more time up there without having to rush back to work after an all too brief vacation. Even better, my son Steve, lives about an hour away from camp and now we will be able to hunt together more than for a just few days every year. It means a lot to me to do that and to know that he will use and appreciate the property long after my hunting days are over.
I am sending along pictures of the bucks I killed in the area near camp the last two seasons. Steve and I hunt on the 19 acres we own, on nearby State Land and on a large hunting club lease where we are members. Most clubs in the Adirondack area have an aging membership base; consequently, they are frequently looking for new members to replace the ones who finally give up hunting, so there are more opportunities available if we ever decide we need more area to hunt.
We have taken deer in most years of the decade that has passed since acquiring the land, but as we have become more familiar with the area, our success rate has improved. We have each taken nice bucks the last two seasons and often pass up opportunities on smaller bucks. While I have been happy to take the deer in the photos, Steve and I have both caught glimpses of a couple of really impressive bucks which are woods wise and wary (as well as smarter than we are) so they are still wandering the woods behind camp, waiting to tease us again next season.
You have no doubt felt a great deal of satisfaction knowing that your company has been able to provide a lot of folks like me the opportunity to have an affordable place to enjoy the outdoors. My camp is small and simple, but is one of the things in my life that I truly treasure. Thanks again for helping me find and own this ideal spot.
Sincerely, Phil Nowell
---
---
Dear Mr. Christmas,
We are writing to you to say "Thank you" for honoring your word. There are not many people today that will stand behind what they sell as you have done. Doing business with you and all of your employees was a very pleasant experience and we would not hesitate to purchase land from Christmas and Associates in the future. We will highly recommend Christmas and Associates to others.
Thank you again. Sincerely, D. & S. Hamilton
---
---
Dear Christmas & Associates,
This is the second time I purchased land from Christmas & Associates. they were wonderful and professional both times. Our recent purchase occurred during the nationwide stay-at-home/business lock down. They made it seamless and I don't live in New York. If you are looking for land or a cabin, this is who you should contact.
The Stite's, Owego Hill Rd., Harford, NY 13784