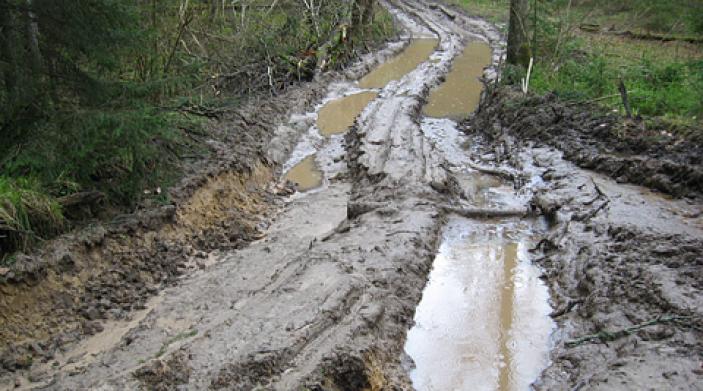 During the spring and fall rainy season, the North Country experiences what we fondly call "Mud Season." Mud Season usually occurs in March/April when spring thaws bring frost out of the ground or in October/November when the ground becomes saturated with heavy rains. This situation creates soft, sloppy road conditions on gravel roads - usually lasting three to six weeks. If the road is new, this condition may exist even longer. Eventually, moisture evaporates or will perk down into the soil and the roads will harden up. New roads are always a little softer during the first year.
Unless it is absolutely necessary, we suggest you avoid driving on any gravel road or right-of-way to your lot during this time. Newly constructed roads need to settle and become firm and you risk your vehicle getting stuck or creating serious damage to the road. At Christmas and Associates, we will be monitoring the road conditions throughout the spring and fall, so please feel free to call us anytime if you'd like an update on road conditions.
Below are some additional tips from our foresters for upkeep of gravel woods roads.
Keep road travel to a minimum. Consider temporarily closing off your road to avoid vehicles becoming stuck. This prevents deep ruts in your road that will require increased maintenance.
Keep culverts, drains and ditches free of debris to allow water to flow unimpeded.
Keep brush and trees on your lot trimmed back to allow adequate sunlight to dry out the roads.
Water drainage into ditches is important so keep the road base near your land sloped or crowned in a way that allows proper runoff and drainage.
If you have additional questions or need further information about road maintenance, consult an expert! Contact your local road contractors for assistance. In addition, feel free to call Christmas and Associates anytime at 800-229-7843 if you have any questions.