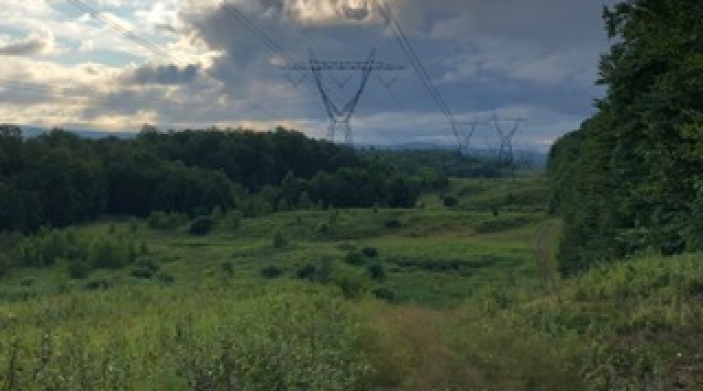 Something is changing today. It's Sunday morning yet I am wide awake at 5:17am...."Hmmm, why?" I wonder.
Then I feel a cool breeze blow through the window and I see the shadows of billowing clouds creeping across the meadow in the first minutes that my eyes come into focus. The light this morning is different.
As I stumble my way to the coffee maker I see a big deer out my kitchen window. At first I strain to see velvet horns but then I see a fawn staring at its own reflection in the pond. That big deer is a doe.
The urge then hits me.... I jump into yesterday's work paints, the tee shirt I slept in and don my St. Lawrence football hat. I grab my thermos, a cup of coffee and head outside to jump on my side by side Polaris.
Sloshing coffee and bounding down the dirt road, I head for my favorite deer blind along the big power line and its big views.
I realize "Shoot! It's almost August!" In just two weeks the Bucks will start shedding velvet! As I rumble up the road I think of my brother at work, (well he calls it work); my sons are probably still asleep under their covers.....then I think of hunts gone by and the spot where I first saw my 12 pointer that's now mounted in my den. I recall the time my son, Joe, shot off a buck's tail and I glance over at what we call "the playground deer blind," made out of an old children's playset. I notice it's in need of an upgrade.
I hear my old man's voice say, "It's coming on fast now, boys." Finally....finally the heat and deer flies I endure as a woodsman in June and July are subsiding and my favorite time to be in the woods is almost here!
My friends! Smell the air this morning - late summer and early autumn is an amazing time to live, work and hunt in upstate New York.
It's almost here!
Make every day in the woods count. Get out your canoe, your hiking boots, the moose call and the trail camera.... my woodsy friends, our time has come!
It will go by so fast…so do all the scouting, paddling and climbing you can in these glorious days....because you and I ....my ole buddy....we are living the dream. I carry a lifetime of woods lore and memories my father passed on to me until it's my turn to pass it on to my children. Something in the air is changing today. Don't waste a minute!